Selecting Songs
The Song List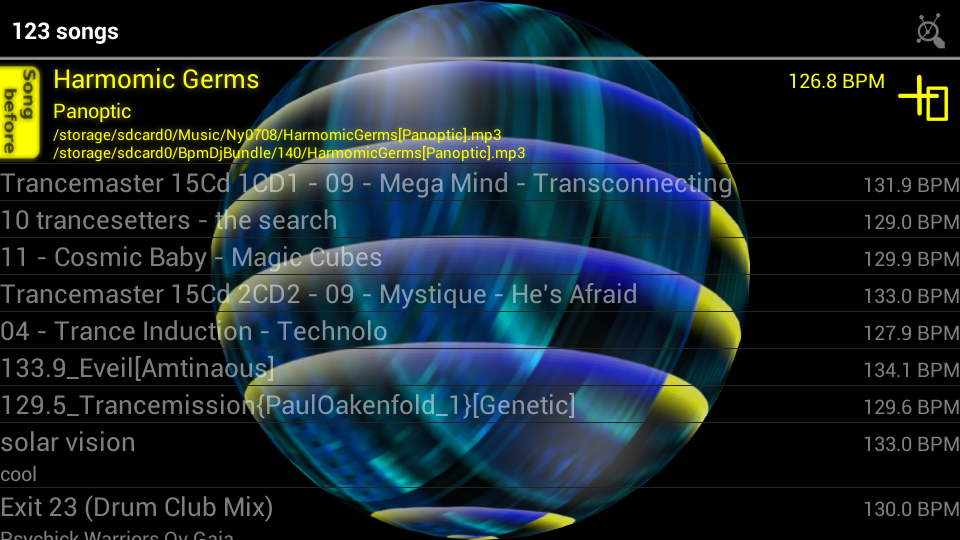 The song selector allows you to select songs to be placed after, before or between tracks. The song selector automatically opens when a song is inserted, added or replaced.
The song selector overrides the normal audio stream and either the song-before, the song-after or the selected song plays. A small headphone

tells you what song is playing.
In the song selector a number of marking can be shown

marks that exactly this song is already in the mix.

marks that a song by this author is already in the mix.

marks the song that lies before the song to be inserted.

marks the song that lies after the song to be inserted.
Once an appropriate song to insert or append has been found click on the

icon.
There are two possibilities to select songs. The first is simply accessing the full library. The second one calculates 'nearest neighbors', i.e. music that has similar properties to the track being played.
Full library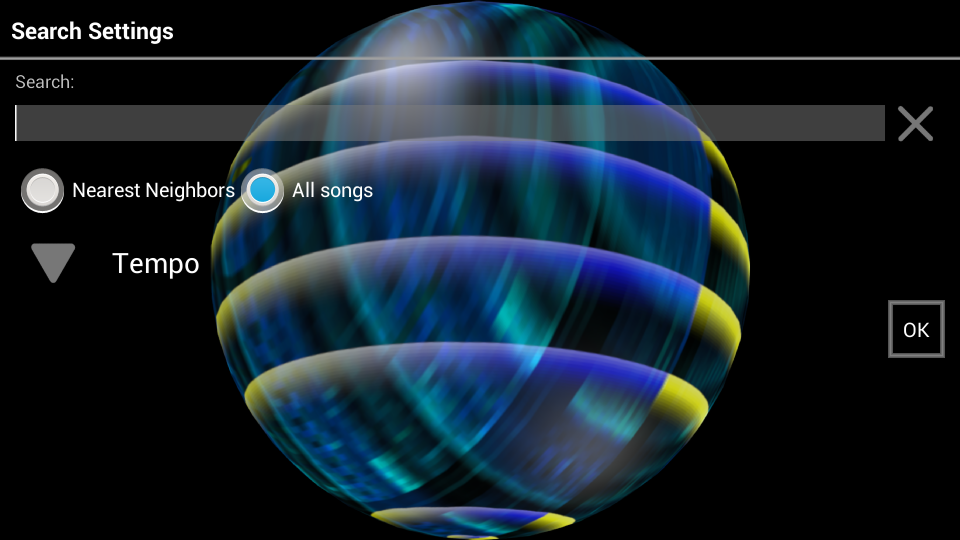 The search options are available from the

menu.
To view all songs in your library, select the 'All Songs' radio button.
The search field can be used to search for specific songs. The songs listed will have the search string as a sub string in either title, author or filename.
The library can be sorted in ascending

or descending

order according to tempo, title, author and filename
Nearest neighbors
'Nearest neighbors' are songs that are close to the target song(s). BpmDj compares the rhythm and loudness of the tracks to calculate the nearest neighbors.
To set the song selector in nearest neighbors mode, tap the 'Nearest neighbors' box. On phones this is available through the Search Settings menu item

.
Two buttons at the bottom can be used to specify whether only slower songs or only faster songs should be listed.
The 'Songs at double/halve speed' button can be used to allow detection of similar rhythms if the song were played at double or halve speed. This option has to do with the fact that sometimes it is difficult to know whether a song should be counted as 60 or 120 BPM. Often both could be valid.
The search field allow you to search for data and then sort them according to their measured distance.
Prev
Next